The screenplay of The Enchanted Orchestra was written in 1979, based on the story by Barry O'Keef.
Armstrong had first met producer, O'Keef in April 1977 when commissioned to write 12 half hour dramatised fairy tales for his company, Maiden Music Ltd; a company specialising in producing children's records.
By the end of the year, Armstrong had dropped his plans to move to America and joined O'Keef's company, ostensibly to help him create a film division but also to work alongside him developing a variety of projects.
One of the projects was The Enchanted Orchestra.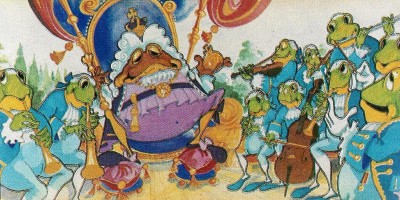 The album:
Inspired by Sparky's Magic Piano and Tubby The Tuba, O'Keef had written it to be his most ambitious children's record to date. Armstrong helped him cast some of the voices for the album but O'Keef wanted a major star for the Storyteller. The script was sent to James Mason via a contact of Armstrong but Mason declined the role.
Concerned that the quality of his writing was insufficient, O'Keef asked Armstrong to completely rewrite the Storyteller's opening and closing narration. Having done so, Armstrong set up a lunch with ICM agency head, Dennis Sellinger to discuss the possibility of David Niven taking on the role. Sellinger loved the project and the script now with the new Storyteller's narration and so it was sent to Niven.
With the cast tracks, apart from the narration, already recorded, O'Keef went into de Lane Lea recording studios on the 24th February 1978 to record the orchestral tracks with arranger and conductor, Arthur Greenslade and composer, Max Early, O'Keef's nineteen year old protégé.
On the 19th April, David Niven agreed to play the part of the Storyteller and recorded the narration in an Antibes studio on May 5th.
As O'Keef started mixing the tracks, his in-house artist, Neil Grimshaw began finalising designs for the album, which would contain a 16-page book of the text, full colour illustrations and a specially arranged piano score of the main theme.
Throughout the remainder of the year, attempts to secure a realistic deal from a major distributor received little enthusiasm. As a consequence, O'Keef finally decided he would release it under his own label in the U.K. For Holland, a big market for children's product, the Dutch release was signed over to Theo de Vos of Ring Workshop in Hilversum with whom O'Keef had developed a close working relationship.

The film:
As work was nearing completion on the album early in 1979 in readiness for its release, Theo de Vos was approached by an international lawyer, G.A. Dolk, who was putting together a consortium of top Swiss lawyers, economists, financiers and medical specialists including Dr Bruno Becchio, Dr Bellward, leading ENT specialist Dr Hugo Grandi and leading architect Dip. Hardi Holler.
The consortium, with Swiss government assistance, was to head a mammoth new world medical centre in conjunction with the World Health Organisation for medical research, education and the arts to be based in Leuk, Switzerland. This giant Leuk Foundation Centre would be divided into two sections: the Leuk Medical Centre and the Leuk Creative Arts Centre.
With the people who would head the Medical Centre already on board, de Vos and his Ring Studios were offered the opportunity to head the Arts Centre. While showing Dolk some of his current product, de Vos, mentioned his U.K. connection with O'Keef, which prompted a playing of The Enchanted Orchestra tapes. Dolk's reaction was to enquire why this was not being made into a feature film.
Immediately, de Vos contacted O'Keef, to discuss the possibility.
O'Keef was well aware that, in itself, his album script was insufficient to turn into a full-length animated feature film. Its running time alone was barely half what would be required - plus it had been written for the very young. Not wishing to lose the opportunity, however, he asked Armstrong to look at it.
The first thing Armstrong had to do was come up with a device which would expand the simple story into something far more universal and sustainable. There was also very little time before the proposed meeting with Dolk. It was during a discussion with the album's designer and fellow Disney fan, Neil Grimshaw, that the idea of turning it into another Fantasia presented itself. It meant that the instruments would now not only play their own tunes but also play those of great composers - each piece being separately illustrated and introduced by their respective ghostly creator.
Unfortunately, it meant there was little time for the classical pieces to be chosen and creative decisions made on how best they could be illustrated.

A few quickly sprang to the fore: Baba Yaga's hut on fowl's legs from Mussorgsky's Pictures At An Exhibition; an amphibian, fish and insect vision of Handel's Water Music - mainly because of the company's Toad's Army albums; an Egyptian mythological fantasy for Verdi's Grand March from Aida; Druids at Stonehenge for the 2nd movement of Beethoven's 7th Symphony; an aerial ballet of hot balloons to Elgar's Chanson de Matin; Wagner's Ride Of The Valkyries (at that time, conceived as a grim sequence akin to that of Fantasia's Night On Bare Mountain) and a Viennese ball of bats for Strauss's Overture to Die Fledermaus.
Other possibilities toyed with were Tchaikovsky's Swan Lake (The Nutcracker and Sleeping Beauty had already been used by Disney) Rimsky-Korsakov's Scheherazade; the Rossini/Respighi La Boutique Fantastique; Mendelssohn's Overture to A Midsummer Night's Dream (rejected as being too similar to Fantasia's Nutcracker sequence); Grieg's Peer Gynt Suite (rejected because of its use in Song Of Norway); Saint-Saëns' Carnival Of The Animals, and countless others.
Armstrong also concluded that a live-action backstory was needed for Peter, to strengthen and give greater meaning to the long animated dream sequence.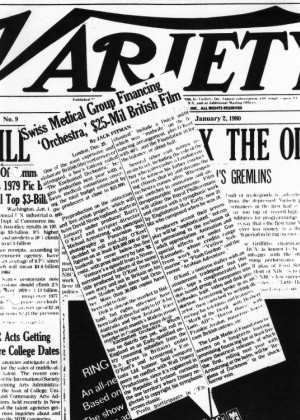 On July 8th, Armstrong and O'Keef flew to Amsterdam for the meeting which de Vos had organised with Dolk and his associates.
On July 9th, they sat before the gathered Board. Playing extracts of the chosen musical pieces and giving very generalised descriptions as to how they would be depicted, Armstrong and O'Keef outlined a lavish half live-action, half-animated feature film to be shot in 70mm (only two companies had ever attempted this: Disney with Sleeping Beauty and Richard Williams with his forever ongoing The Cobbler And The Princess). The intended film would have a glittering array of star musical talent and star acting talent. They then informed the committee of their requirements to prepare such a package for financing. The meeting concluded with a heavy question and answer session.
On July 10th, Dolk confirmed that the Leuk Foundation would not only put up immediate development money but - subject to a successful presentation of the developed project - provide whatever money was needed to make the film.
On July 11th, back in London, O'Keef received yet further confirmation and instruction from Dolk after which the album's illustrator, Neil Grimshaw, was appointed Head of Design for the project and Armstrong designated writer and director.
The arrival of development money, as promised, from the Leuk Foundation, signalled O'Keef's company to begin the huge job of preparing a full presentation pack for the Leuk committee to assess and make their final decision about financing the film. This pack was to include: animation designs, artwork and vision boards, detailed budgets, bridging budgets, break-downs and projected schedules, tapes of the original music and album with publicity schedules and a completed screenplay.
At the time, Armstrong was in the middle of writing a script for BBC's Shoestring, as well as trying to find end money for his intended spoof film musical, The Curse Of Tittikhamon scheduled for autumn pre-production. Despite these commitments, on July 30th, Armstrong turned his attention to the screenplay for The Enchanted Orchestra.
He decided to place the story in a definable setting such as the Royal Albert Hall - a decision that led to the exciting discovery that there had actually been a Gala Concert there on May 26th 1932 attended by King George V and Queen Mary.
Sponsored by the News Chronicle, this World Celebrity Concert in aid of the Musicians Benevolent Fund had included legendary artistes such as violinist, Fritz Kreisler, singers John McCormack, Florence Austral, Friedrich Schorr and Elena Gerhardt, cellist Guilhermina Suggia, pianist Wilhelm Backhaus and conductors Sir Henry Wood, Adrian Boult (at that time unknighted) and Sir Edward Elgar conducting his Pomp And Circumstance March No 1 in D. This now placed the story in the 1930's, which immediately introduced a style, sophistication and whole new social and political depth to the setting and its characters.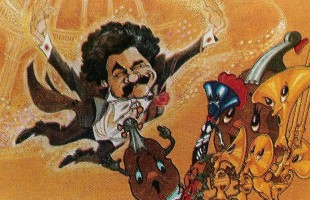 As researchers set to work providing Armstrong with information on the period and, in particular, the concert, he finalised his search with Grimshaw and Early for the pieces they would be using.
In keeping with the album, it was decided to retain the Brahms 2nd Piano Concerto for the film's credit sequence. In the composer's line-up, the serious absence of Mozart was rectified by including the opening movement of his 40th Symphony as the piece Sir Arthur Granville conducts at the concert which Peter sneaks in to watch. In reality, the piece was not performed at the actual 1932 concert but as Granville was a fictional character anyway, it was felt dramatic license was allowed.
The structural need for a strong dramatic piece and the noticeable absence of Tchaikovsky led to the inclusion of his 6th Symphony and the depiction of Pompeii. This immediately had a knock-on effect on the Wagner, which didn't take much thought to tip it over into comedy.
The Humming Chorus from Puccini's Madama Butterfly was a last minute substitution after the loss of Elgar's Chanson de Matin when it was discovered he could hardly appear as a ghost because, not only was he still alive at the time but was actually one of the guest conductors at the 1932 concert.
By September, virtually everything else on Maiden Music's schedule had been put on hold - including The Curse Of Tittikhamon. Circumstantially, a BBC Man Alive documentary unit had been filming its struggle to raise end finance as a perfect example of the British film industry's continual problems attracting investment. The go-ahead for The Enchanted Orchestra ironically provided them an unexpected 'feel-good ending' to their report.
Throughout October, Armstrong locked himself away to write the screenplay, emerging only to provide Grimshaw with information for the design boards as he wrote the scenes they would illustrate.
To ease his workload, Grimshaw had invited an ex-colleague, artist and cartoonist, Robert Gibson to work with him. He and Gibson divided the design boards between them: Gibson taking the ghosts and pieces by Mussorgsky and Tchaikovsky; Grimshaw re-examining his design of the instruments and taking on the pieces by Puccini, Beethoven, Handel and Verdi. The Strauss was split between the two of them. By courtesy of the Disney Company, the creative team were treated to screenings of the entire Disney catalogue of animated features in order to study animation techniques.
"One morning, without thinking, we foolishly sat down to watch a double-bill of Bambi followed immediately by Dumbo. You should have heard the sobbing!" Armstrong recalls. "Worse, in the pub afterwards, everyone kept staring at us - there we were, this small group of grown men all with red eyes from having cried so much!"
Read on to: Part 2 >>