A collection of short stories by Michael Armstrong
A collection of short stories written 1987 to 2001.
Armstrong began writing these while he was living in Los Angeles. Originally, he intended them as an anthology of 12 horror stories reflecting various aspects of the American and, especially the L.A. psyche. "But," as Armstrong points out, "once you actually start writing, the story or script or play or whatever, has a way of taking on its own life and all you can do, as the writer, is just hang in there and try to keep up as best you can. In the case of the short stories - what I'd intended to be horror stories, somewhat disconcertingly at the time, decided to turn themselves into black comedies. Who was I to try and argue? I was only their author not their Creator. I know my place."
Of the 7 stories currently available:
A Letter From The Studio was published in the BECTU journal, FTT in 1987
An American Dreamer and I Was A Middle-aged Werewolf were published in Frighteners in 1991
I Was A Middle-aged Werewolf was also awarded The Geoffrey Ashe Prize at The Library of Avalon short story competition in 1999
Further stories will be added to complete the anthology at a later date.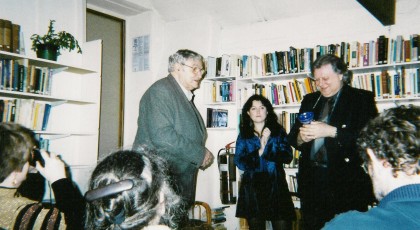 Michael Armstrong receiving The Geoffrey Ashe Prize in 1999
Return to: Archive >>